Ameesha Patel Disappeared From Bollywood Despite Giving Two Superhit Movies, Here Is The Reason
Bollywood is one of the largest film industries in the world. It is also the most competitive industry, as there are several actors who disappeared after giving some successful films. One such actress is Ameesha Patel, who made her Bollywood debut in the best way possible.
Ameesha Patel made her Bollywood debut with Hrithik Roshan in the most spectacular fashion. She made her debut with 'Kaho Naa…Pyaar Hai', which broke several records at the box office. She also won several awards in almost every Award shows that year. Then, she featured in 'Gadar: Ek Prem Katha' also featuring Sunny Deol. Her second film was one of the biggest hit of that year. She received a Special Filmfare Award for her powerful performance.
The actress became one of the most bankable actresses after giving back-to-back super hit films. Everyone was looking to cast her in films. However, she made some horrible choice after that. But, she made her come back with Humraaz, but she made the same mistake again.
She made lots of headlines for her cold war with Kareena Kapoor, who was the first choice for her debut film 'Kaho Naa… Pyaar Hai'. She grabbed lots of news for her affair with filmmaker Vikram Bhatt. Her affair created a huge difference between her and her family. She also got into a legal battle with her father. She accused her father of usurping her money and even demanded Rs. 12 Crore from him.
After dating for 5 years, Ameesha and Vikram broke off their relationship. Since then, she has appeared in few films but not in lead roles. She then started her own production company and announced a film a long time ago. However, there is still no news about that film.
If that was not enough, she was once again in the news for misbehaving with media. This made her situation worse. Her manager was seen asking roles for films, but that also didn't happen. Recently, the actress was trolled mercilessly for her hot selfie, which she posted on her Instagram.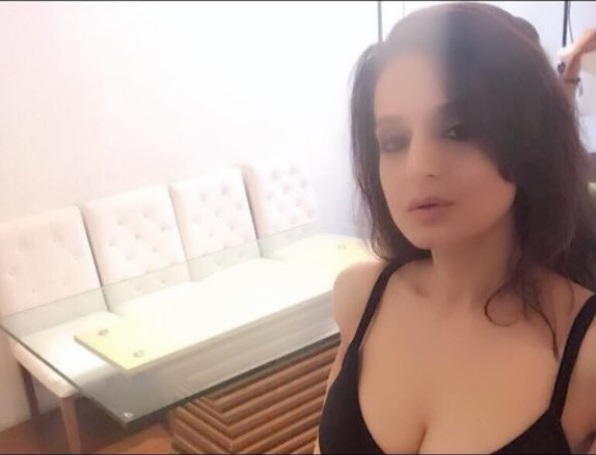 We wonder if Ameesha will be seen in any film now. If we look at her situation, she would be happy to play even supporting roles. Let's hope something happens to her and get some roles.
What do you think? Are you looking to see Ameesha Patel in a movie? Tell us your thoughts in the comment section down below. Don't forget to share the article with your friends.
Comments
comments